I provide equipment for all species of fish. The latest quality rods and reels are updated yearly in my boat. You will always have the use of the same equipment that I use day in and day out. I have two Mercury powered Lunds boats that are always rigged with safety in mind for you and myself. You are responsible for all bait costs.
Clients should bring along:
Seasonally appropriate clothing
Sun Screen
Rain Gear
Cameras
Hat and Fishing Glasses
Fishing License
Lunch
When guiding, I don't have a preference to whom I am guiding. I take men,women, and children fishing. I don't feel that anyone shouldn't have the opportunity to learn to fish. I take first timers, as well as seasoned fishermen looking to explore new water.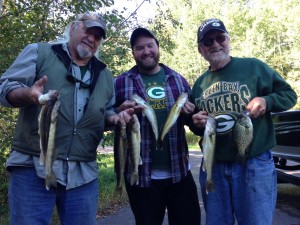 Fishing is fishing, some days are better than others. Yes, there are days when the fish don't bite. Not every day is a Saturday morning fishing show in the real world. I can guarantee that whether we catch fish or not, the experience on the water will be fun and educational.
A great day on the water doesn't necessary have to be one where several fish are caught, but it should be looked at as a bonus to the knowledge learned that day.
Optional Services:
Ice Fishing
Guiding by full day and half day
Taxidermy Service can also be referred.